Since Dieter Rams, few Dutch designers have had as much of an impact on the field as Droog Design has. With their quirky takes on traditional techniques and materials, Droog captured our hearts and minds and almost single handedly took us out of period of 90's minimalism. Droog has now added a hotel to their repertoire that packs a whole lot into one small building.
Hotel Droog is located in a renovated 17th-century building in Amsterdam. While hotel in name, the building contains a variety of other functions, like dining, retail and a gallery. Droog co-founder and director Renny Ramakers wanted to offer customers a place to relax after shopping. From the Staalstraat entrance visitors walk through an exhibition space that is curated by Ramakers. They then can go on to a café that not only offers seasonal food but is also packed with Droog products. The café is designed in Droog's favorite pallet of white and delft blue. This then leads to the clothing store called Kabinet, a product shop called Weltevree and cosmetics counter stocked with Cosmania products. The top floor houses 10 rooms, so the usual bed to retail ratio of hotels has been thrown out the door. The ground floor retail space and hotel rooms look out onto a "fairy-tale" garden in the courtyard designed by Claude Pasquer and Corrine Detroyat complete with a magic mushroom and oversized blooms direct from the other side of the looking-glass.
Droog Design has built its reputation on irreverent design that is approachable and puts a smile on the face. Hotel Droog wraps their whole philosophy in a space that one would never need to leave.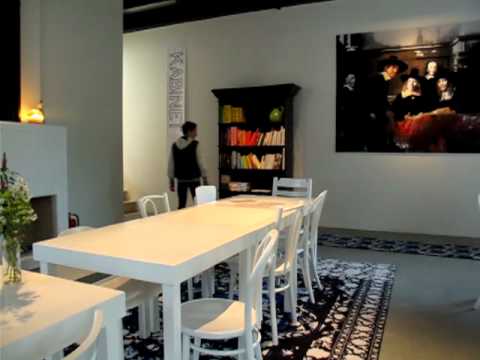 Comments
comments