By Mitchell Parker, Houzz
To achieve a relaxing feeling in a living room, it makes sense to choose neutral colors and tame patterns for the majority of the visual space. But that doesn't mean you have to strive for blandness. Adding dollops of over-the-top pattern here and there in the drapery, pillows, chairs or rug can give a room just the right amount of energy while maintaining the aura of calm.
9 Fashionably Cool Living Room Color Palettes
1. Window Treatments, Pillows and Rug
Designer: Claire Paquin of Clean Design
Location: Scarsdale, New York
Size: 437 square feet (40.5 square meters); about 19 by 23 feet (5.7 by 7 meters)
Homeowners' request: Turn a long, narrow formal living room into an open-concept room with comfortable seating for eight to ten people. They also wanted a built-in that could store children's toys and display books and collections.
Pattern punch: Designer Claire Paquin took inspiration from Chiang Mai Dragon drapery fabric from Schumacher. "Once we saw the pattern — an intense floral with bearded dragons and Chinese lanterns — we knew it had to take center stage as the window treatment fabric," she says. "We drew upon the vibrant color palette of teals, reds, plums and chartreuses to create a fresh and youthful space for the family."
To balance the intensity of the fabric, she kept the other patterns subtle. There's a medium-scale geometric rug, small-scale geometric sectional pillows and casual tie-dye striped chair pillows. "The X-bench fabric is a teal velvet with a spider-like pattern in rich plum that works perfectly with the colors in the Chiang Mai Dragon fabric," she says.
Other special features: Mixed materials — Lucite, faux shagreen, wood veneer, metal, velvet and satin. "The result is that the room is richly layered, so that even though the colors and patterns are playful, the room feels sophisticated at the same time," Paquin says.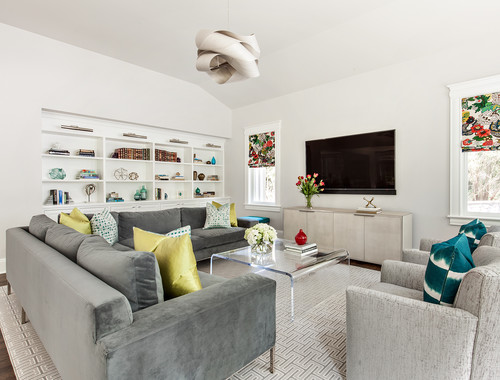 Designer secret: "The key to a successful design that incorporates many bold colors is to keep the foundational items neutral," she says. "The rug, sectional, chairs, cocktail table and credenza are all neutral in either gray or beige tones. This allows the multicolored drapery to shine instead of becoming distracting or overwhelming. It also allowed us to pull out the teal and chartreuse accent colors in the pillows and X-benches as well as red for the decorative accessories."
"Uh-oh" moment: "We had finalized what was a beautiful, cohesive scheme with a completely different focal fabric, but the client was struggling with the design and could not pull the trigger," Paquin says. "When she told us that she had another fabric she wanted us to consider, we were nervous because we thought we would be back to square one and all of us had already invested a lot in the initial design.
"It turns out that when we saw the fabric, it easily slotted into essentially the same design. In the end, the most important thing is that the client is thrilled with the result. It was a good lesson for all in terms of going with your gut. And if your gut is telling you the design is not right, then keep searching until you get it right. This room reflects the personality of the client, and the last-minute change was completely worth it."
Also on the team: Stoll & Stoll Partners (architect); Cum Laude Group (general contractor); Henry Agudelo Architectural Woodworking (cabinetmaker); Regan Wood Photography
2. Chairs, Stools and Pillows
Designer: Laura Kehoe
Location: Scottsdale, Arizona
Size: 300 square feet (27.8 square meters); 15 by 20 feet (4.5 by 6 meters)
Homeowners' request: A comfortable, bright and durable space inside their 1960s ranch home where they could lounge and hang out with their young boys, ages 4 and 2. Having recently moved from Southern California, the couple wanted to incorporate a beach feel with ocean colors.
Unwind in a New Chaise Lounge Chair
Pattern punch: Designer Laura Kehoe played off the homeowners' John Robshaw pillows to create the color and pattern scheme.
Special features: Custom sectional. Game corner.
Designer secret: "Keeping things neutral with the use of one or two main accent colors allows for lots of pattern play without being overly busy," Kehoe says. "We also ended up double-wrapping the sectional cushions to make sure no feathers would come through."
Also on the team: Melanie Patti of Laura Kehoe Design; Mark Boisclair (photographer); Kent Collins of Collins and Co. Construction
3. Chairs, Pillows and Art
Designer: Stephen F. Smith of Cooper Johnson Smith Architects and Town Planners
Location: Tampa, Florida
Size: 720 square feet (66.8 square meters); 18 by 40 feet (5.4 by 12.1 meters)
Homeowners' request: A casual and comfortable gathering place for family and friends.
Pattern punch: Ikat patterns blend chocolate and citrus green, accenting the neutral sofas and patterned sea grass rug.
Other special features: Reclaimed heart pine floor. Reclaimed cypress wood ceiling.
Designer secret: "The use of the mirror above the fireplace mantel, trimmed in painted wood, provides additional light, adds to the expanse of the room and reflects the exposed-rafter and wood-plank ceiling," architect Stephen F. Smith says. "It was a detail that the owners questioned at first, and now is one of their favorites."
Also on the team: Burk Clark of Sinclair Group (builder); Alvie Casey of Marty Sears Interiors (interior designer)
Houzz is the leading platform for home remodeling and design, providing people with everything they need to improve their homes from start to finish – online or from a mobile device. From decorating a small room to building a custom home and everything in between, Houzz connects millions of homeowners, home design enthusiasts and home improvement professionals across the country and around the world.