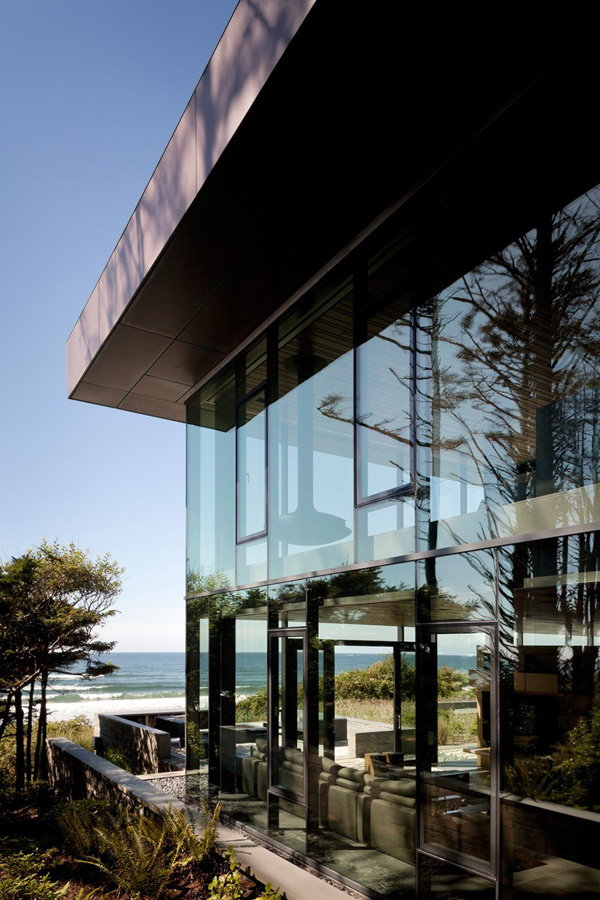 This beach home, situated on the Oregon Coast, was designed by Boora Architects. The exterior of the structure is mostly glass, providing plenty of natural light in all weather conditions. The glass exterior allows residents to fully enjoy the beautiful views of the beach to the west, and the majestic forest to the east.
The driveway leading up to the home still has great views of the beach, and the house is set into the earth so it doesn't obstruct the view. The glass used on the exterior of the home is partly reflective, to keep it from getting too hot and to give the glass a muted look that fits with the surrounding wood. From the beach, the reflective glass will be the color of the sky on a sunny day, and the gray color of the clouds when it is overcast.
The ceiling of the house uses an interesting wood pattern, matching with the trees surrounding the property. This pattern is used in the whole house, and gaps between panels make space for lighting fixtures and ventilation.
The floors are finished in clean black slate, maintaining the clean simplicity of the design. An outdoor area in the center of the top floor has space for a small table where you can eat breakfast while looking out over the ocean.