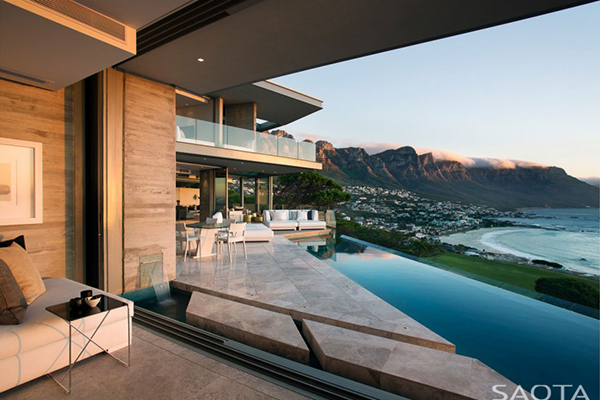 The Clifton 2A project makes the most of its magnificent views from a wealthy suburb of Cape Town, South Africa. Cape town is known for its dramatic cliffs and beautiful scenery, and this house is very successful in exploiting those features.
The house has many areas with floor-to-ceiling windows where you can enjoy the views of the ocean and the views of trees growing from the cliff. Due to the steep gradient of the lot, this house was a challenge to design for and build on.
One of the most interesting details of the house is a bar that uses bronze with dark patina, bent into an interesting geometric shape. Behind the bar, black lacquer cabinets reflect the view of the cliffs, ensuring that the space makes the most of its incredible location.
The master bedroom features a dramatic fireplace with a couch to enjoy its heat on a cold, rainy night. The master bath has a bathtub with views of the landscape, and an outdoor shower for relaxing on hot days. The part of the house facing the ocean has an infinity pool next to a porch, where guests can enjoy the views and socialize. Many details of this house make it a comfortable, modern place to relax, and it makes the most of incredible views over the ocean and Cape Town.