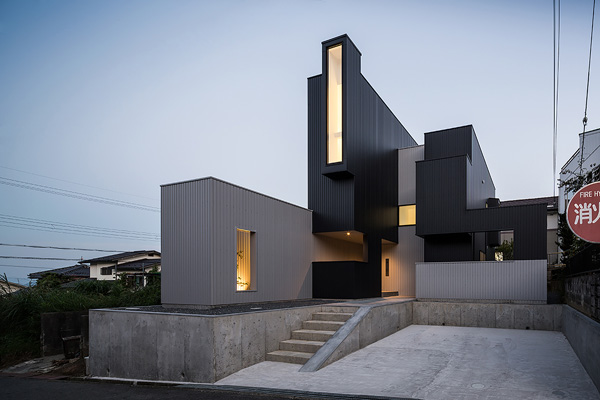 The scape house, by Japanese Architecture firm Kouichi Kimura, is located in Shiga, Japan, on the tiered-developed residential area on a hill. The house is designed to make the most of views toward a nearby lake, while providing the residents with privacy from neighbors.
This home is made up of an interesting combination of materials, from tile and marble in the living room, to metal and concrete used throughout. The architects make careful use of the space, providing many different nooks and subtle features to give residents a quiet place to read, or a glass window to see what people are doing in another part of the house.
The space uses concrete in many ways, imprinting a design in some places, and leaving it with a natural, unfinished design in others. The exterior is finished in a corrugated metal which provides a distinct and very modern look.
The house is made up of a dynamic assortment of box-shaped structures, with subtle details inside to make it a more pleasant place to live. There is an area set aside for a home office, finished in wood to contrast the rest of the house. An indoor shower makes use of outdoor light and gives a feeling of openness with a large window facing an interior courtyard.