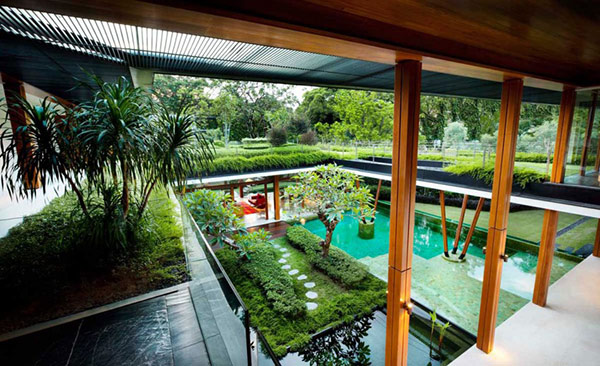 Designed by Guz Architects in Singapore, Water Lily house is a spectacular combination of water, green life, and modern design. The home is located in the exclusive Sentosa area of Singapore. The most striking feature of the home is its unique way of incorporating greenery and life into the structure.
The building is surrounded by old, mature trees, and is designed around a green rooftop deck and walkway. The walkway surrounds a central pool and green space, adding to the pleasant feeling of nature in the home.
The building itself uses white, smooth surfaces and light colored wood to make the structure's lightness work well with the extensive water and plants surrounding the property. Near the entryway, a section of dark wood creates an interesting accent as you are led into the home. Throughout the rest of the house, the light is abundant, as are views of the lush landscape.
A pavilion adjacent to the pool and interior courtyard is a nice place to host guests. Surrounded on three sides by glass and water, this area would make a great place to relax and feel the natural diversity of Singapore.